Sie sind hier: Startseite > English version > Nick
Nick

New Era de la Source aux Elfes "Nick"
(IntCh Whispering Wind Flying Flapjack x DualCh Femme Fatale de la Source aux Elfes)

Facts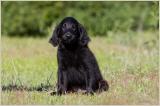 D.o.B.: 07.04.2017
Hips: A1
Elbows: 0/0
Patella: 0/0
OCD: free
Eyes: clear (June 2018)
Gonioscopy: slightly affected (10% Laminae, ICA width: open)
Heart: tbd
Thyroid: clear
Colour: black (BbEE, carries black and liver)
DNA-profile: registered
Reg.nr.: LOF 8 RET.F.C 6310/0
Breeder: Laurence Pruvot, Kennel "de la Source aux Elfes"
Owners: J. & K. Jebsen

Breed Standard Qualification Certificate: Excellent
"Almost two year old already well developed dog of excellent type, elegant masculine head, dark correct set eyes, excellent ears, dry strong neck, correct angulations in front and back, excellent top and under line, bone and feet, excellent coat, fluent movement with good stride and drive, quite parallel coming and going, friendly relaxed behaviour."


Show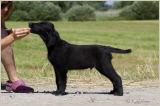 Ortenau Junior Winner 2018
Alps Junior Winner 2018
Palatine Junior Winner 2018
Annual Trophy Youth Winner 2018
Club Junior Winner 2018
German Junior Champion DRC
German Junior Champion VDH*
Luxembourg Junior Champion


Germany:
1x Best Puppy of Breed (WDS 2017)
5x JCAC (VDH), 3x JCAC (DRC)
3x CAC (VDH), 3x CAC (DRC)

Switzerland:
1x JCAC

Luxembourg:
1x JCACL, Best Junior of Breed


For a full list of Nick's show results click here.


Work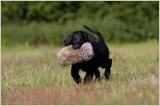 TAN
Epreuve A
JP/LR (1st place, Junior Hunting Test for Retrievers)
working test (Snoopy, Beginners)
APD/A (1st place, Dummy-Test Novice)


Achievements:
Young Star Trophy 2018 absolved with success (Snoopy)
2nd place "FCR Rookie Trophy Klaukenhof" 2018
2nd place "Smuck und Plietsch" Snoopy 2019
6th place "FCR Trophy Luhmühlen" 2019


Pedigree
To see Nick's pedigree click here.


Pictures
To see Nick's gallery click here.