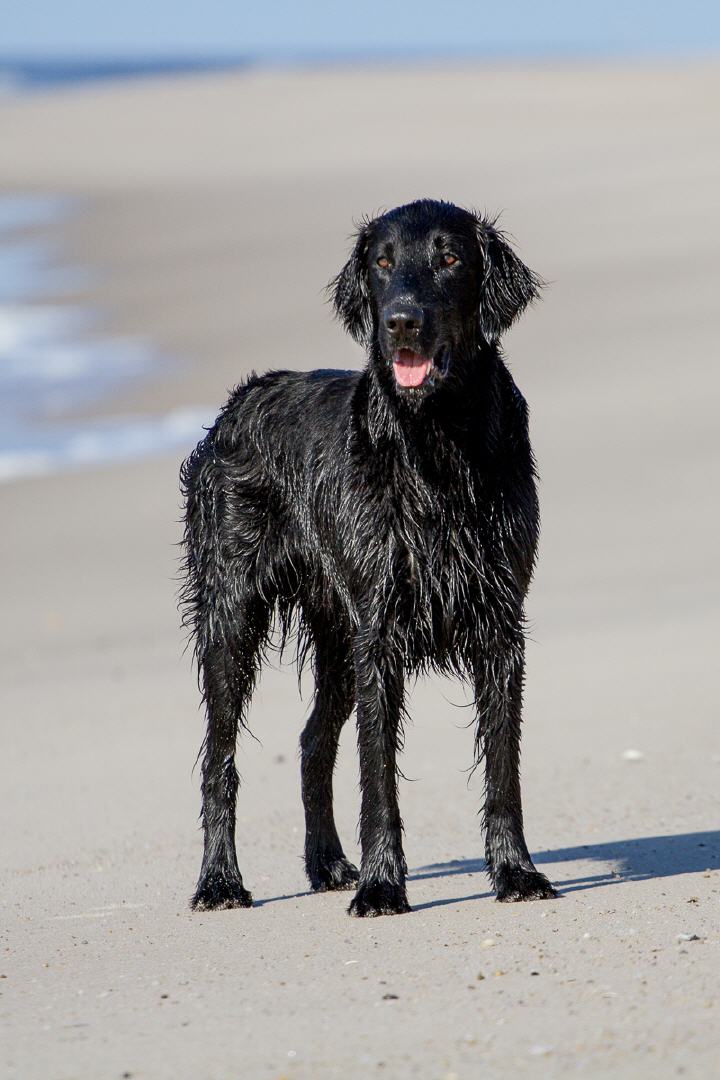 Über Nick
How Nick made his way into our hearts is a story of dreams, hope and finally luck.

At the end of 2016 Laurence asked us, if we would agree to a repeat mating of Fée and Jack. We didn't have to think long about it, because the puppies of the first litter were super and the time point was good for us to make our dream of a son of jack come true.

The mating took place at the beginning of February 2017 and the waiting for the ultrasound seemed like an eternity until we received the phone call that Fée was expecting puppies. The x-ray showed 7-8 bubbles, a good number and chance that there could be a black dog puppy for us.
Julia joined Laurence for the birth which happened without greater problems. First there came 2 liver boys, then a black and a liver bitch, followed by a black bitch, a liver boy and again a black bitch. this were seven, but Fée still had contractions and after a longer time a liver boy was born, but unfortunately he could not be brought to life. This were 8, so no black boy for us...

But in the fuss of the dead liver boy, we had not recognized, that Fée had went into the welping box to her puppies, where we could not believe our eyes. She had given birth to another black boy, which must have been hidden on the x-ray. And this boy became Nick.

About his name we thought quite a lot. He was born "in the Nick of time" so Nick should be his call name. His kennel also had to start with N, but we wanted something with a connection to Jack's name. Our choice was "New Era" which means "fresh Breeze" (Era= erë, albanian for wind or air).

Nick was a very easy puppy in every respect and developed to a wonderful dog. He is very affectioned, keen to work and has a very good nose. He has all good abilities we wanted and time will show, if he can step into the big pawprints of his parents. He is something very special to us!
Health

Hips: A1
Elbows: 0/0
Patella: 0/0
OCD: free
Eyes: clear (July 2022)
Gonioscopy: slightly affected (10% Laminae, ICA width: open)
Bite: complete scissors
Thyroid: clear
Colour: black (BbEE, carries black and liver)
DNA-profile: registered

Show

To date we have shown Nick in 3 countries. In 2018 he won the titles "German Junior Champion Club", "German Junior Champion VDH" and "Luxembourg Junior Champion". 2021 he became "German Champion VDH" and in 2022 he completed his "German Champion DRC with working certificate". Nick resembles his father Jack a lot.

Work

Nick showed a very good nose and retrieving ability from the beginning. He is quite a soft dog and needs no harsh hands. His basic gundog and dummy training is coming on nicely, he is as keen as his daddy to retrieve, but still has a good response to the whistle. Nick loves swimming and with time he gained self confidence with non-easy water entries.

Nick absolved his first test at 12 month of age, the French gundog ability test (TAN) and the Epreuve A (a preparation test for the Selectif B). He was the youngest and the only dog of 5 starters who passed the Epreuve A and we got some nice comments on his work. At the age of 15 month he finished his Junior Hunting Test for Retrievers as winner of the test and the next day he participated with success at the Young Star Trophy (a working test for beginners). Meanwhile he also passed his Retriever Award of Merit and Hunting Ability Test.

Offspring

Breed Standard Qualification Certificate: Excellent
"Almost two year old already well developed dog of excellent type, elegant masculine head, dark correct set eyes, excellent ears, dry strong neck, correct angulations in front and back, excellent top and under line, bone and feet, excellent coat, fluent movement with good stride and drive, quite parallel coming and going, friendly relaxed behaviour."