About Ella

About Ella
Ella was not really planned, although we knew, that we would like to have another Flatcoat when Jack would be about 4 or 5 years old, best a Jack baby, but this did not turn out. So in November 2012 when two breeders independently from one another told us about this litter in England, we started to think about keeping a bitch puppy in co-ownership. We visited both dam and sire and their breeders in England and decided this would be a good choice.

The litter theme was "people's names with a" and we picked "Arabella", call name "Ella", which means "God is my light". And she really has such a bright character that shines through!

Ella is a girl full of beans with loads and loads of temperament, energy and attitude. She is very cuddly and always wants to be at our side, being Julia's constant shadow. She has a fable for every kind of food and water.

Ella loves playing, swimming, running, going on trips and visiting friends and family. She is happy, when she can part of everything we do.


Songs: Satellite (Lena), Paparazzi (Lady Gaga)
Nicknames: The bee, Ella Propella, Elli Pirelli, Else, Else-Belse




Family
Ella's pedigree is mostly English, containing some lovely champion dogs with good working potential.

Ella's dam was ShCh Seaheart Isabella JW (MultiCh Wagging Tails Rolf Muntz x Ch Levelmoor Lanosa of Seaheart SDC A SGWC), called Bella, a homebreed bitch by Gill Smitherman at Kennel Seaheart in England. She had very good results in her young show career, becoming a Junior Warrant at 10 month old, getting sevaral best puppy awards and gaining three CC and two RCC. She was trained with dummies and game and had a good natural ability but did not do tests. Bella was put to sleep shortly before her 8th birthday, suffering from tumors in her liver and spine.

Ella's sire is Toutnoir Hiriwa Tohuga of Benvellyn JW (Downstream Prime Suspect x Benvellyn Cape Hermitage), called George, an English dog, bred at Kennel Toutnoir. He also has a Junior Warrant and some best puppy awards to his credit and he was Top Puppy FCRS 2011. To date he gained two RCC. He has done basic gundog training and shows nice working potential.

Click here to see more of Ella's parents.

Ella has three brothers and seven sisters, all black. To learn more about her siblings, click here.



Work
Ella is doing basic obedience and dummy training and is making good progess. She had no problem with picking up game, cold and warm, and makes no difference between working with dummy or game. She passed her Junior Hunting Test for Retrievers (JP/R) and her Dummy Test Novice (APD/A) with very good results being only 15 month old. In August 2014 she passed her Hunting Ability Test with 400m bood-track (JEP/S). In July 2015 she passed her Good Citizen Dog (BHP/A) and in August her Retriever Award of Merit (BLP/R) as winner of the test.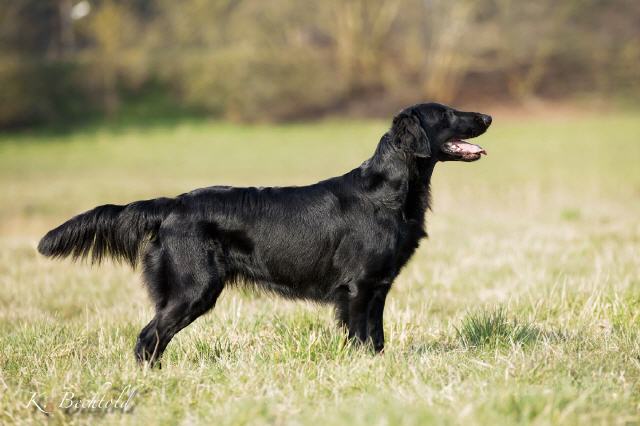 Confirmation
Ella is a very femine bitch on the smaller side of the standard. She has a one piece head with kind hazel-coloured, nice shaped eyes. Her expression is very sweet and she has a special attitude. Her pigmentation is very good. Her bone fit her structure, she has a nice topline (it got a bit soft after her puppies), a good tailset and reach of neck and is nicely angutaled front and rear. Her feet are strong and tight. Her coat is very functional and flat of excellent texture. She moves with good reach and drive, a bit wide in front.

Ella was slow to mature, just following the motto: 'mature at two, over the hill at four', but she finally gained her German Champion titels in 2018.