Sie sind hier: Startseite > English version > Ella
Ella

Seaheart Arabella "Ella"
(Toutnoir Hiriwa Tohuga of Benvellyn JW x ShCh Seaheart Isabella JW)

Facts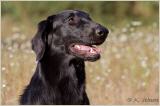 D.o.B.: 03.01.2013
Hips: A1/A2
Elbows: 0/0
Patella: 0/0
Eyes: clear (March 2014)
Gonioscopy: unaffected
Heart: will follow
Thyroid: clear
Colour: black (BBEE, carries only black)
DNA-profile: registered
First season: with 8 month
Reg.nr.: KC AQ00322905 / DRC-F 13-5109
Breeder: G. Smitherman, Kennel "Seaheart"
Owners: J. & K. Jebsen/Anna-Victoria Schmidt

Breed Standard Qualification Certificate: Excellent
"Very harmonic and pleasing bitch, kind expression, lively without being nervous, correctly built throughout, super bone and feet, flowing movement, ideal size."
(57cm)

Show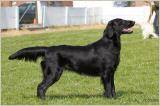 German Champion DRC with Working Certificate
German Champion VDH*

qualified for Crufts 2016

Germany:
6x CAC (VDH), 5x CAC (DRC), 5x Res. CAC (VDH), 4x Res. CAC (DRC)
2x Res. CACIB

Luxembourg:
1x BOS Puppy

Switzerland:
3x CAC, 1x Res. CACIB, 1x Best Gundog of Breed

UK:
1x 3rd (FCRS Show 2015), shortlisted Crufts 2016 (Special working)

Italy:
WDS 2015 Exc shortlisted

Austria:
1x CACA

For a full list of Ella's show results click here.


Work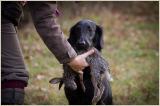 JP/R (Junior Hunting Test for Retrievers)
APD/A (Dummy-Test Novice)
JEP/S (Hunting Abiliy Test with 400m blood-track)
BHP/A (Good Citizen Dog)
BLP/R (1st place, Retriever Award of Merit)
inoff. workingtest (intermediate)


Offspring
Ella was mated to "IntCh Fiete vom Wildförstersee" from 14.7.2016 till 20.7.2016 and was confirmed in whelp on August 11th, 2016.
The puppies were born on Sep 14th, 5 dogs and 5 bitches, all black.
In August 2018 Ella was diagnosed with a tumor in her left milk strip which had to be removed, so the litter with Fiete will be her only litter.

Click here to see the puppy-page.


Pedigree
To see Ella's pedigree click here.


Pictures
To see Ella's gallery click here.